Ronald Searle died December 30, 2011 at 91.
Searle was a brilliant cartoonist and one of the great draftsmen of the 20th Century, a genius whose artistic influence is incalculable.
He was born in the UK in 1920. At the start of the Second World War he joined the British Army and was shipped the Singapore and promptly captured by the Japanese. He was imprisoned for 5 years and barely surviving the experience.
In the years afterward, Searle original vision found an appreciative worldwide audience.
He worked nearly to the end.
Searle was a hero of mine; One of my most prized possessions is an original Ronald Searle sketch.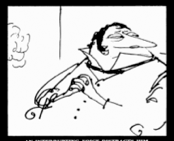 LEAVE A COMMENT
Best Book!

America is Under Attack: The Day the Towers Fell has been included on the Best Books of 2011 lists of School Library Journal, The Horn Book, and the Washington Post!

Post Archives

Recent Comments

Don's Posts