I was at the Boston Bookfest on Saturday, Oct 19, sharing in a panel discussion about non-fiction graphic novels.
I discussed my book, The Great American Dustbowl.
One of my co-panelist was the extremely talented, funny, and nerdy (in a good way) Maris Wicks, the illustrator of Apes
The other panelist was award-winning author Jane Yolen, a personal hero and inspiration.
From her books, I imagined she would be warm, engaging, with a sharp, funny wit…It was a joy to discover she lived up to my dreams.
My favorite Jane Yolen book: Owl Moon.
Here's Jane and me.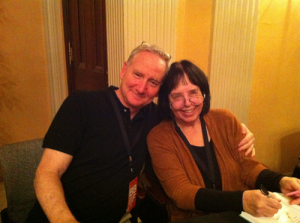 Best Book!

America is Under Attack: The Day the Towers Fell has been included on the Best Books of 2011 lists of School Library Journal, The Horn Book, and the Washington Post!

Post Archives

Recent Comments

Don's Posts